The best energy solutions
YottaWatt designs and builds power plants that make use of renewable energy sources, relying on the know-how and experience accumulated over thirty years of activity in the energy sector.
The know-how of YottaWatt experts provides an A to Z service for the assessment, development and management of the entire project. The expertise of YottaWatt technicians guarantees an accurate and fast implementation while YottaWatt qualified staff will take care of maintenance, keeping track of all technical aspects with a fast response service, offering a specialized consulting service to tackle logistics and financing.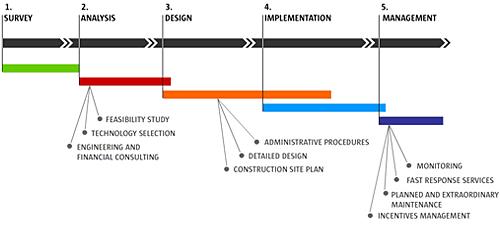 Services and expertise:
Site survey and feasibility study, check of applicable legal rules as well as environmental and construction restrictions.
Financial advice to select the best solution from a financial and energetic perspective, using at best the available incentives.
Design of the optimized energy solution.
Implementation of power plants.
Incentives management, legislation evolution analysis and monitoring to spot new opportunities.
Maintenance and fast response services.
Monitoring in real time of power production.
Expert consulting:
Quality control, check and control of designs, returns forecasts, compliance with contract provisions and specifications
Building integrated photovoltaics (BIPV): technical and financial consulting for project design and use of innovative materials
Implementation support through design services, financial assessment services, advice on equipment selection and suggestions for implementation facilitation
Methods and procedures
The power of YottaWatt lies in its ability to implement custom-made solutions that take into account your specific requirements and to accompany you throughout the life cycle of your power plant.
A cleverly built power plant is above all a power plant that resorts to renewable energy sources. Not only must it be designed and built according to the "best design rules" but it also has to be maintained and monitored in order to maximise its power production from both an energetic and financial perspective. With such approach, YottaWatt positions itself on the international renewable energy market in order to bring you knowledge, know-how and expertise coordinated at their best throughout your power plant life cycle. Thus, you will be able to add a positive power outlook to the future of your property.
Innovative technologies
YottaWatt is constantly paying attention to the latest available technology and industrial innovation. This dynamism in the search and development of high efficiency power systems renders YottaWatt offer unique in terms of efficiency and cost savings. As a matter of fact, beside financially very attractive standard solutions based on mature technology, YottaWatt also offers technologically innovative solutions developed by industry leader companies from the United States, Germany and Italy.
For instance, as to photovoltaic power, YottaWatt offers solutions integrating thin film panels (CIGS, TeCd, a-Si) and is presently analyzing and assessing solutions resorting to micro-inverter.
After-sales assistance
To guarantee the productivity and the quality of its plants, YottaWatt offers A to Z monitoring and maintenance services thanks to a specialized team of experts and technicians.
You will no longer need to call for a third party repair service because YottaWatt remotely monitors your power plant status and productivity and performs routine maintenance visits, guaranteeing maximum expertise for its fast response service thus minimizing power losses as well as wastes of time and money.