Energy under the sun
YottaWatt Solar, the company branch dedicated to solar energy, provides each customer with comprehensive services ranging from technical, financial and administrative consulting to the implementation of efficient and reliable thermal and photovoltaic power plants.
YottaWatt Solar provides turnkey power plants well-suited for industrial buildings, farm sheds, greenhouses, shopping malls, modern architectural design buildings and photovoltaic parks.
Saving with energy
The initial investment in a photovoltaic plant is paid off thanks to incentives, tax breaks, and proceeds from sales of generated electricity or savings on the electric bill in case of self-consumption. The examples here after show the internal rate of return for power plants of small, medium and large size according to their geographical location (northern, southern and central Italy).


If the photovoltaic plant construction is financed through a loan, the incentives, tax breaks and proceeds from sales of the generated electricity will not only compensate for the loan installments but will also generate positive return. In the examples here after, the simulation hypothesis is based on a fixed loan rate of 5.4%, while the present value of cumulated earnings as shown is based on an annual inflation rate of 2.5%.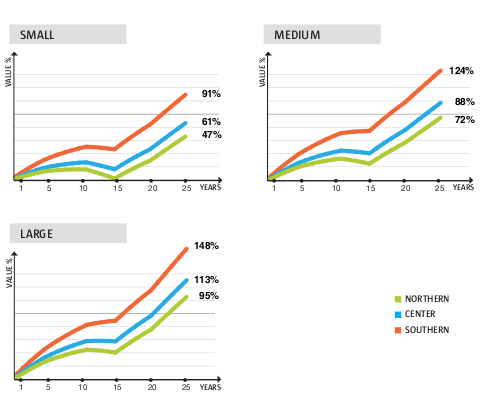 Solutions and services
YottaWatt eases the beneficial enjoyment of solar energy by coordinating the entire project, from site survey to implementation and maintenance, taking care of all technical, logistic, administrative and financial aspects for the entire power plant life cycle. YottaWatt guarantees precise financial estimates and provides a qualified consulting service to check the full compliance with applicable legislations.
For your own benefit and peace of mind, YottaWatt Solar takes care of the entire management of the Conto Energia promoted by the GSE (Gestore dei Servizi Energetici) or tax credits for residential photovoltaic plants. YottaWatt Solar pays special attention to any legislation and regulatory changes in addition to tracking regional funding opportunities and asbestos disposal incentives.
Solar technologies
YottaWatt Solar offers solutions tailored to any requirement:
Standard photovoltaic power plants on industrial buildings or on ground.
In addition to standard mono or poly crystalline silicon panels, YottaWatt Solar offers panels with special glass that optimizes the capture of solar radiation as well as thin film panels proven to be more efficient in converting the diffuse solar radiation into power and operating during the summer high temperatures.
Photovoltaic power plants for farms.
YottaWatt Solar offers certified ammonia-proof panels as well as panels for the concurrent production of both hot water and electricity.
Photovoltaic greenhouses.
Greenhouse panels offered by YottaWatt Solar are semi-transparent with the percentage of transparent/photovoltaic cell adjustable according to the type of crop. The lack of frame allows an elegant and full integration of the solar panels into greenhouses under construction or into already existing ones by easily replacing some of the glass panels.
Modern design solutions for buildings.
YottaWatt Solar offers safe glass photovoltaic panels with customized sizes and patterns that combine aesthetic value and energy production.
Photovoltaic power plants with storage system.
In order to achieve high self-consumption of the generated solar energy, YottaWatt Solar offers photovoltaic power plants with energy storage system (lead-gel or lithium-ion batteries).
Solar thermal systems for heating and cooling.
Beside standard thermal solar products, YottaWatt Solar offers solutions that combine air conditioning to sanitary water production and/or heating. Such systems allow to maximise the performance of the thermal solar plant, complementing traditional heating/air conditioning systems.